Burlington Gazette - History by Helen Langford
Burlington High School, 1919
Tues., June 6, 1978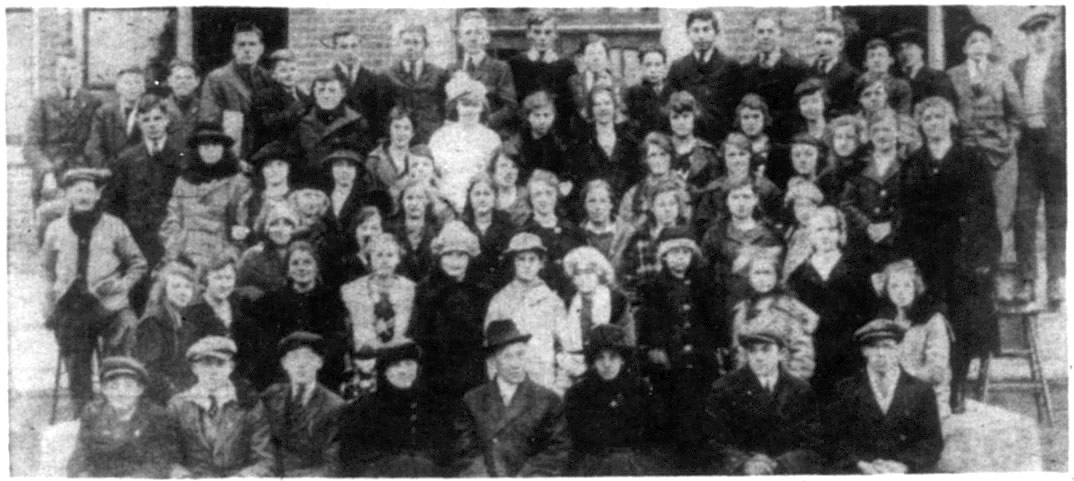 BACK ROW: Chris Fothergill, Unnamed, George Clifton, Henry Ogg, Earl Merner, George Wood, Emery Horne, Russ Smale, Harvey Hutchins, Gordon Blair, Donald Sutton, Lloyd Tufford, Albert Tuck, McLean Anderson, Harry Stephenson, Russ, Clare Howard, Charles Hovey.
SECOND ROW: Newton Ghent, Ross Marris, Hattie Dunham, Mary Kelly, Muriel Barker, Olive Hicks, Elsie Blessinger, Evelyn Blessinger, Marjorie Speers, Annie Potter.
THIRD ROW: Audrey Collyer, Gertrude Beck, Mary Holtby, Muriel Ghent, Thalia Cannom, Molly Hagee, Jessie Rymal, Blanche Lang, Edith Donkin, Marion Konkle, Allie Wilson.
FOURTH ROW: Wm. Lordant (custodian), Hetty Holtby, Gladys Tebbs, Beulah Williamson, Janet Henderson, Kathleen Donkin, Ruth Hodgson, Faith Wallace, Ineg Bumby, Bertha Oakes, Florence Dunham.
FIFTH ROW: Mary Pettit, Evelyn Brown, Mildred Coulson, Margaret Sinclair, Emily Richardson, Florence Huffman, Rhea Blair, Florence Dunham, Ruth Wood, Nellie Ireland.
FRONT ROW: George Richardson, Reg Sherwood, George Blanshard, Eva Jane Newhorn (teacher), E.D. Smith (principal), Annie Haight (teacher), William Dalton, Harold Chapman.
Photo and names courtesy of A.E. Tuck.
The high school used several rooms in the present Central Public School until 1922. Can you fill in the blanks?
Source: Langford, Helen. Burlington Gazette [Ontario], 6 June 1978. Microfilm. Burlington Public Library - Central Branch. Reel No Missing.