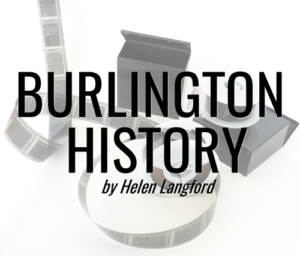 During the Fall of 1977, Burlington Gazette columnist, Helen Langford began writing articles focused on the history of Burlington. Today they are accessible through the Burlington Gazette microfilm collection at either Burlington Public Library – Central Branch, or Mills Library at McMaster University in Hamilton.
A personal note: We have incredible Local History resources at the Central Branch of Burlington Public Library. It's also the Archive location of the Burlington Historical Society. It's best to visit in-person!
My intention on reviving these articles is to make them more accessible and look at history through a historical lens to better appreciate the present.
| No. | Publication Date | Title |
| --- | --- | --- |
| 1 | Tues., October 18, 1977 | Our First Settlers - Part One |
| 2 | Tues., October 25, 1977 | Our First Settlers - Part Two |
| 3 | Tues., November 1, 1977 | Our First Settlers - Part Three |
| 4 | Tues., November 8, 1977 | Our First Settlers - Part Four |
| 5 | Tues., November 15, 1977 | Our First Settlers - Part Five |
| 6 | Tues., November 22, 1977 | Our First Settlers - Part Six |
| 7 | Tues., November 29, 1977 | Our First Settlers - Part Seven |
| 8 | Tues., December 6, 1977 | Pioneer at 46 |
| 9 | Tues., December 13, 1977 | Search Through Past |
| 10 | Tues., December 20, 1977 | Before 1800 ... |
| 11 | Tues., December 27, 1977 | The Land Family |
| 12 | Tues., January 3, 1978 | A New Beginning in 1791 |
| 13 | Tues., January 10, 1978 | The King Family |
| 14 | Tues., January 17, 1978 | George Chisholm |
| 15 | Tues., January 24, 1978 | Chisholms and the Creek |
| 16 | Tues., January 31, 1978 | More of the Chisholms |
| 17 | Tues., February 7, 1978 | Oakville's Founder |
| 18 | Tues., February 14, 1978 | Brant's Block |
| 19 | Tues., February 21, 1978 | The King's Head Inn |
| 20 | Tues., February 28, 1978 | The First Innkeeper |
| 21 | Tues., March 7, 1978 | Black Chief |
| 22 | Tues., March 14, 1978 | The Kerns Family |
| 23 | Tues., March 21, 1978 | Hannah |
| 24 | Tues., March 28, 1978 | Creaking Old Mill |
| 25 | Tues., April 4, 1978 | Reader Input |
| 26 | Tues., April 11, 1978 | Painting and Auction Sale |
| 27 | Tues., April 18, 1978 | Burlington in 1806 |
| 28 | Tues., April 25, 1978 | A New Township |
| 29 | Tues., May 2, 1978 | Lottery Day |
| 30 | Tues., May 9, 1978 | Roads and Schools Before 1812 |
| 31 | Tues., May 16, 1978 | Hopkins and Big Macs |
| 32 | Tues., May 23, 1978 | Who Lies in the Crypt |
| 33 | Tues., May 30, 1978 | Elections - Microfilm Missing This Edition at Burlington Public Library, Central Branch |
| 34 | Tues., June 6, 1978 | Burlington High School, 1919 |
| 35 | Tues., June 13, 1978 | Garden of Canada |